Visit Indonesia : is the world's largest archipelago state.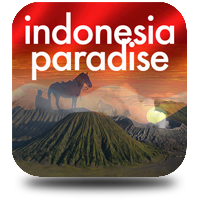 Indonesia is an exotic country that rich and lives by the diversity in terms of culture, ethnicities and language. By the wealth of Indonesia has in case of that diversity, it can be potentially become a great nation to be introduced in worldwide.

Indonesia is an archipelago country, there are big and small islands that included in 33 provinces. In some islands are still un-inhabitant and become the conservative area for forest and endemic flora and fauna. Moreover, Indonesia has around 300 ethnic groups, each with cultural identities developed over centuries, and influenced by Indian, Arabic, Chinese, and European sources.

By those diversities among the people, culture and way of living, make Indonesia become a unique country that rich with culture and customs. Indonesia is also has potential tourism objects that worth t
o be visited.

There are mountains, rivers, beaches, waterfalls, caves and any historical sites in all over the islands. Those tourisms are representing what Indonesia has as the identity of the nation.
Hence, by those richness and abundant of the nation, Mahoni.com wants to give any contribution relating the Indonesia tourism to the worldwide. Mahoni.com as a developer for mobile application has been releasing the brand new application which has titled Indonesia Paradise.

Indonesia Paradise is an application for iPad, iPhone and iPod Touch that showing 30 pictures of Indonesia sightseeing. These pictures are represent the beauty of Indonesia and slightly described on each pictures. By these pictures, Mahoni.com hopes that world will more recognize the beauty of Indonesia and everything inside. There will mountains, beaches, hills, lakes that showing the exotic of Indonesia.

By downloading this free application, you better get your bag pack and ready to fly to Indonesia.
| for iPhone | | for iPad |
| --- | --- | --- |
| | | |